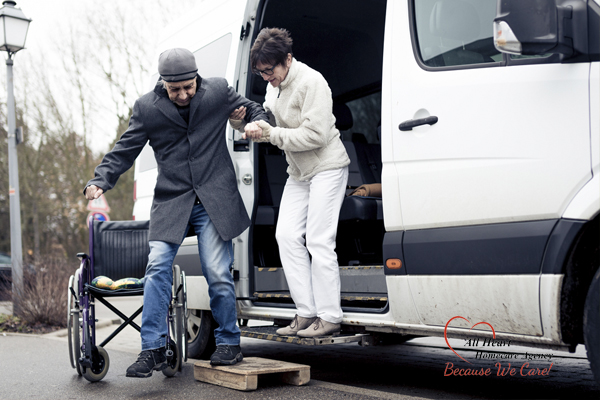 When our parents or other relatives get older, they may need some help with transportation. Of course, you can provide them with your own assistance if you have the time, but what if your loved one needs to go to the doctor or somewhere else and you are just too busy?
We can give you a hand with transportation for seniors with Medicare exactly to help them (and you) with these ventures. If you choose our support with transportation assistance for seniors, you can be sure that your elderly loved ones will receive all the reliable and compassionate professional care that they deserve so much.
Access to transportation for seniors
Staying mobile is extremely important for people when they become older. If they stay at home all the time, they usually feel lonely, sad and isolated. Many people in their 70s and older no longer drive because of health issues. That's why they need to use other options, like public transportation for seniors (subways, buses, including pace bus and smart bus), or private transportation. So how you can help your elderly loved ones stay on the go and enjoy different places?
Do it yourself! It can be a very fulfilling and bonding experience. Go for a walk with your grandma or grandpa, drive them somewhere nice, or to the doctor, if they need it. Family time is extremely important for their well-being, but of course, most people have jobs and other things they have to do, so, this option can't be available around the clock.

Use a volunteer transportation for seniors. It is usually free and provided by various religious or other communities. Volunteers can help your elderly relatives with public transportation, or drive them where they need to go. However, this option can be unavailable from time to time, depending where you live.

Call us and we will provide you with a personal caregiver, who will take care of all of your elder's needs, including helping with transportation for seniors to doctors, for recreation. We contact your medical insurance company and they will provide you with a car ride for free.
Transportation options for seniors
Various kinds of transportation for seniors for different purposes:
| | |
| --- | --- |
| Personal transportation for seniors | Your elder doesn't have to sit at home while you're away. They may want to take a walk in the park. |
| Transportation for seniors to medical appointments | If your elderly parents need to go to the doctor to check their health. |
Our employees are well-qualified and have all the certifications needed for this kind of work. They are caring and highly empathetic, and your loved ones will feel happy and at ease with them. Our help with transportation for seniors and disabled is effective, compassionate and convenient.
How can our agency make your transportation better?
We can make sure to organize you a means of transport and help you with getting your elderly parents from point A to point B along with other additional benefits from private transportation for seniors. There are multiple little things that will make your journey, whether big or small, much more pleasant and convenient. Our highly-qualified caregivers will take care of everything. They will help your loved ones pack all the things they need, remind them of medication intake, check on everything important, and of course, keep them enjoyable company. Transportation assistance from All Heart Homecare guarantees safe and convenient trips for your dear seniors.