All Heart Homecare Agency is dedicated to delivering compassionate, highest-quality care to our clients in the comfort of their homes. We strive to enrich as many lives as possible and constantly look for ways to add more value to our patients and Employees. Our services begin with our Philosophy: Care for one as you would care for your loved one with all your heart.
To be recognized as a trusted leader in the home healthcare industry by setting new standards. All Heart Homecare Agency will inspire its employees to be their best. We will engage in sustainable practices and anticipate the needs of our patients.
We treat others as we would  like to be treated. We acknowledge that everyone is right from their perspective. 
Communicating honestly. We only make the agreements we are willing, able, and intend to keep.
We always try to understand and appreciate the customer's needs in every  situation.
We love what we do; we love serving others and always adding value to our clients and employees!
Why choose All Heart Homecare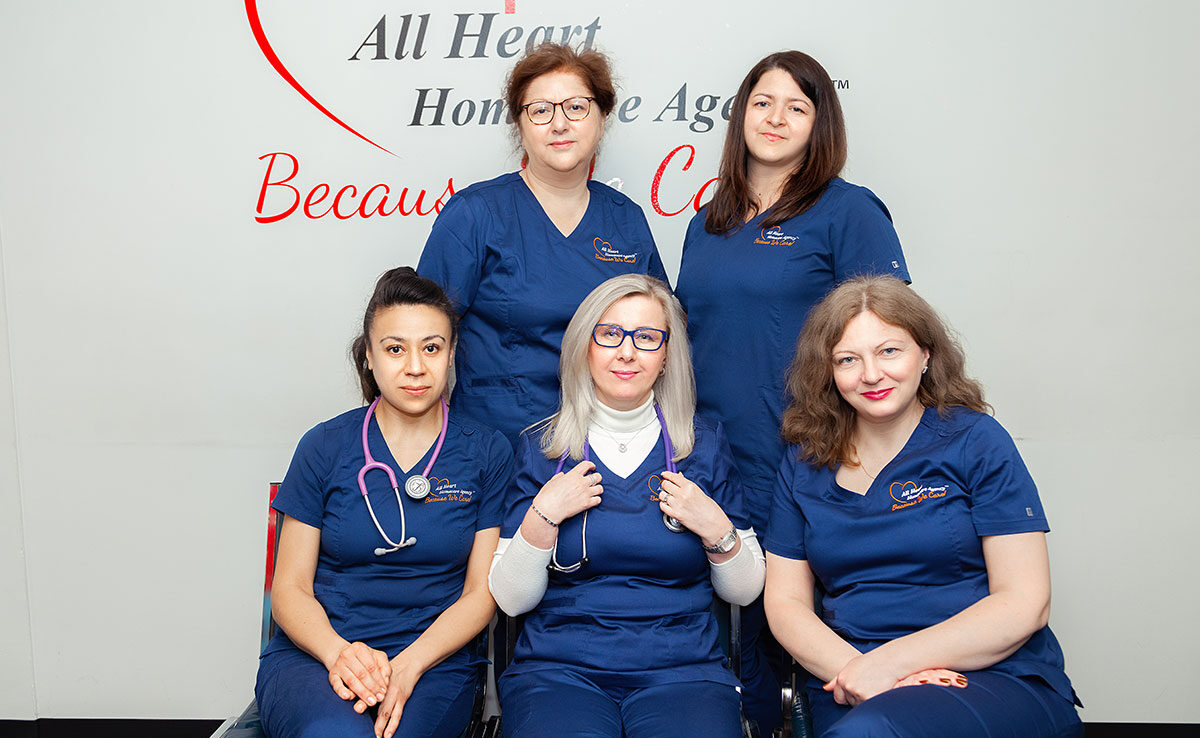 Nursing
Our team of experienced, compassionate, and empathetic nurses plays an invaluable role in delivering exceptional home healthcare services to our esteemed clients. With a deep commitment to the well-being and comfort of our patients, our nurses go above and beyond to ensure that every individual receives the highest quality of care they deserve.
In 2012, our grandmother, Sonya, who was in need of Home Care services was, unfortunately, not receiving the care and support that she, and every other home care client deserves. The agency to which we had entrusted our grandmother's care had low level customer service and was lacking in people skills; often times, our grandmother was left without a caregiver, as the agency did not send a home health aide for the day.
This is when we decided to act!
We combined our experience, acumen, skill-set and business knowledge base knowing that we can get into the industry and lead the way!
We wanted to create a business that would serve patients in the comfort of their homes with dignity and compassion, provide peace of mind for their close ones, and add more value to everyone – from employees to our patients.
Not everything came easy to us, but our determination, patience, faith, proven success formulas, and OUR TEAM helped us grow our business to new heights. There is always light at the end of the tunnel and if you stand up for what's right and true… you don't give up and keep going forward!
What is unique about our business? Our people! We hire only the best and develop our employees to be outstanding leaders. We are unique because our team is strong, friendly, always ready to help, happy, positive, and hard working. Our employment terms are unique and very competitive!
Our customer service, respect and understanding towards people that we come in contact with, exemplify our dedication to the work we do.
Our mission – help our patients, make a difference in their lives and be able to provide work to our Aides!
Listening with the intent to understand what is being said and acknowledging that what is said is important to the speaker.
Responding to all inquiries in a timely manner.
Communicating any potentially broken agreements at the first appropriate opportunity to all parties involved.
Never saying anything disrespectful about anyone.
Maximize internal and external customer loyalty.