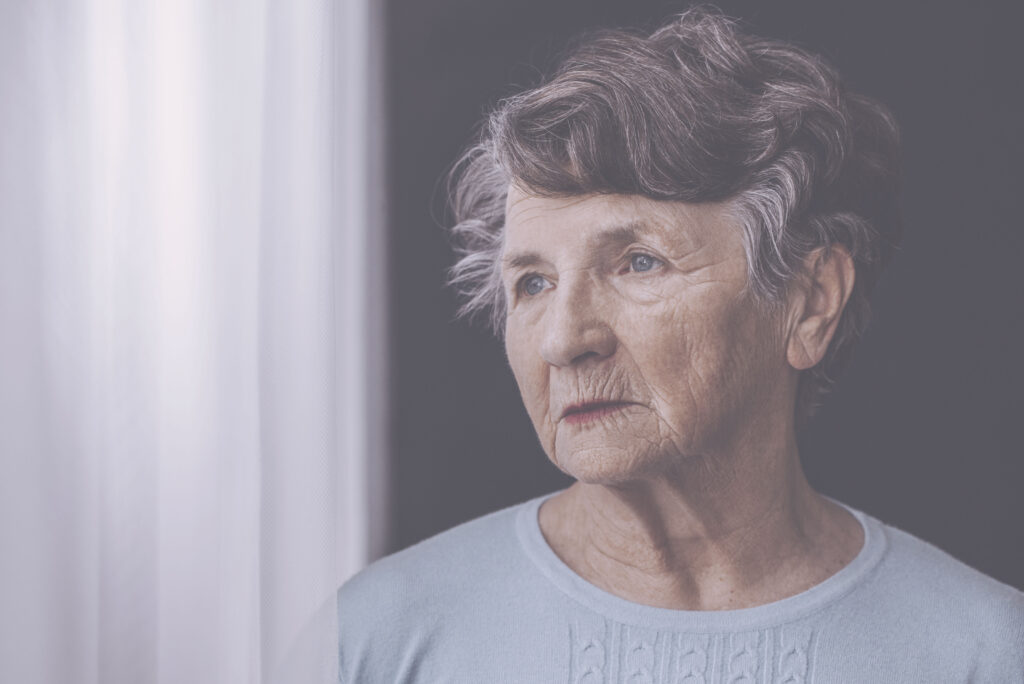 It is hard to realize that your elderly parents or relatives are not able to take care of themselves any longer and require regular assistance. At a time like this, you are to decide what would be the best option for your loved ones – "age in place" with home care services support or move from their own home to a nursing facility. And this is not an easy decision to make.
How do you know what's right for the senior you love so much?
We created this guide to help you feel more informed and confident while making the tough choice. You will learn what home care and nursing home care offer, how much they cost, how you can pay for them and which pros and cons they both have.
Let's dive right in.
What Is Home Care?
As the name suggests, home care is supportive care given to your elderly or disabled family member within the comfort of his/her own home. In other words, a professional aide visits your relative on a regular basis to provide necessary help. Most patients receive up to 40 hours of home care per week.
Depending on your relative's needs and health condition, you might be considering one of the two types of home care:
Home Health Care – provided by a licensed healthcare professional – a skilled nurse, physical or occupational therapist. Being medical in nature, this type of home care is aimed to help a patient to recover from illness or injury.
Home Care Services – provided by professional caregivers who give daily assistance to ensure the activities of daily living (ADLs) are met. These services mainly cover companionship, meal preparation and housework. Unlike home health, home care is classified as non-medical care.
What is Nursing Home Care?
First of all, a nursing home is a place for people who do not need to be in a hospital but cannot be cared for at home due to the old age, immobility, severe Alzheimer's or dementia condition. These patients live in the nursing home permanently, getting the most comprehensive care they can receive outside the medical facility.
The nursing home staff provides a wide range of services – from helping a person to get out of bed and use the toilet to physical and speech therapy. Most nursing homes have skilled nurses on hand 24 hours a day.
What Services Are Offered by Home Care?
As discussed earlier, home care ranges from specialized medical services to supporting activities of daily living (ADLs). Each category has its own set of services: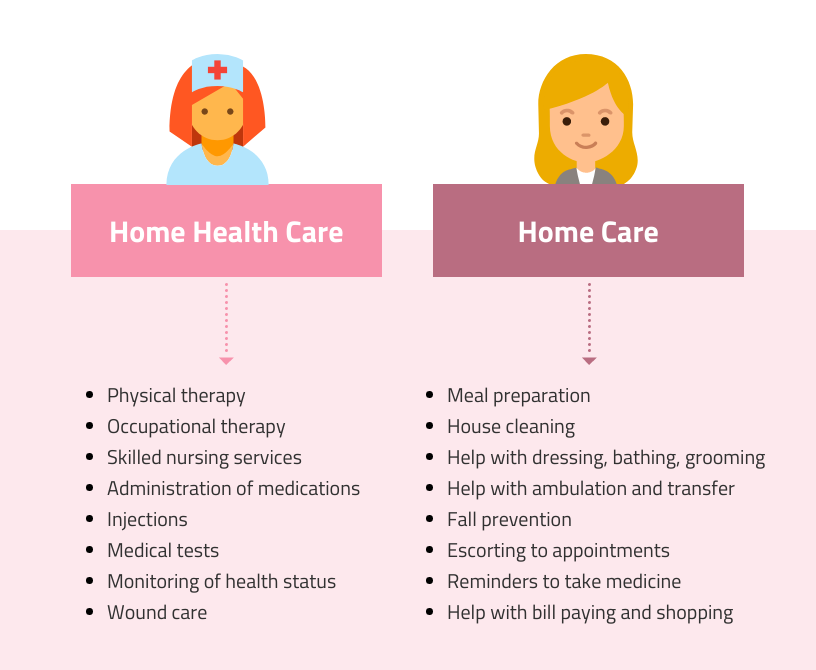 What Services Are Provided by Nursing Home Care?
Of course, the services may vary from facility to facility, but most nursing homes offer the following: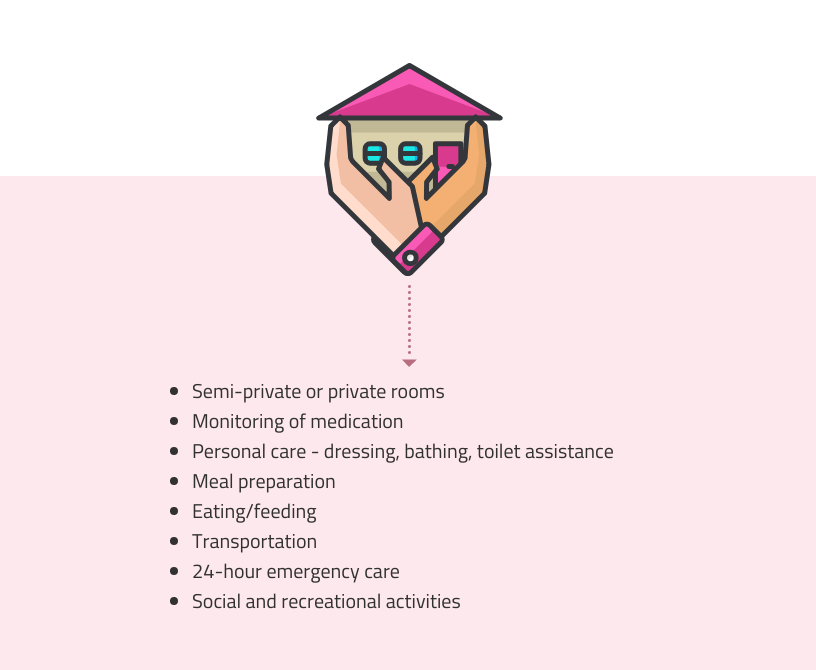 What About Costs?
The cost of home care will depend on the type of the aid you are seeking and what qualifications you prefer the aides to have. Below you will see the national average rates oh home care services.
Licensed home healthcare professionals, providing intensive medical services, cost on average $220 daily and $6,600 monthly.
Non-medical caregivers that help with ADL's services and companionship average $164 per day and $4,920 per month for 40-44 hours of care per week.
As for the nursing home care, its national average cost per day is $225 for a semi-private room and $253 for a private room. Monthly charges range from $6,844 to $7,698 for semi-private and private rooms respectively. The price may rise if your senior requires special services, such as dementia or memory care.
You can check the nursing home care by state here.
It is important to keep in mind, that average nursing home care rates have increased considerably over the past few years and are projected to continue growing:

How to Pay for Services?
When you have an idea about home care and nursing home care services and their rates, it's the right time to decide on how to pay for them. Good news is that there are several ways to cover the expenses. Again, pretty much depends on the amount and level of services needed.
For example, if your senior needs a caregiver only a couple of hours per week to help him/her with some chores or personal care, you may opt to pay from your own pocket. But if your elderly loved one requires full time professional medical assistance or nursing home care, you might need financial aid from the government.
Whatever the case, here are the most common ways to cover the care expenses: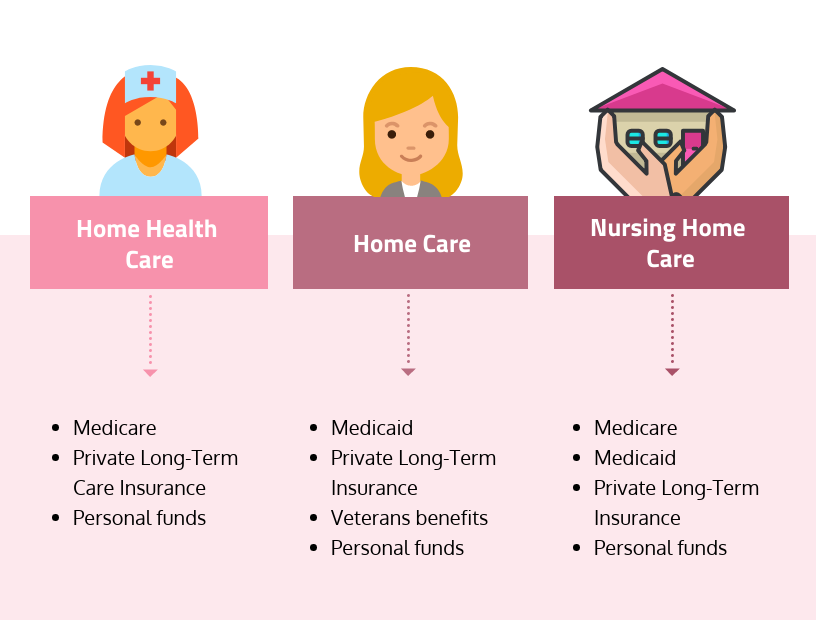 Medicaid is a federal and state program that helps with medical costs for some people with low income and resources. To become eligible for Medicaid, people usually have to spend all of their assets first. Once their money runs out, Medicaid would chip in.
Medicare is a national health insurance program. It provides health insurance for Americans aged 65+ (or under 65 if they have disabilities) without regard to income.
Private long-term care insurance is a health insurance option that, if purchased, supplements Medicare coverage.
Veterans Benefits are provided by the US Department of Veterans Affairs. These benefits are a compensation to disabled veterans who suffer from a medical disorder or injury that was incurred in, or aggravated by, their military service, and which causes social and occupational impairment.
Personal Funds – your own money.
Pros & Cons
Before you finally decide on whether to opt for Home Care or Nursing Home Care services, there is a couple of things you will want to consider.
Both Home Care and Nursing Care have their advantages and disadvantages that you need to keep in mind while planning your next steps.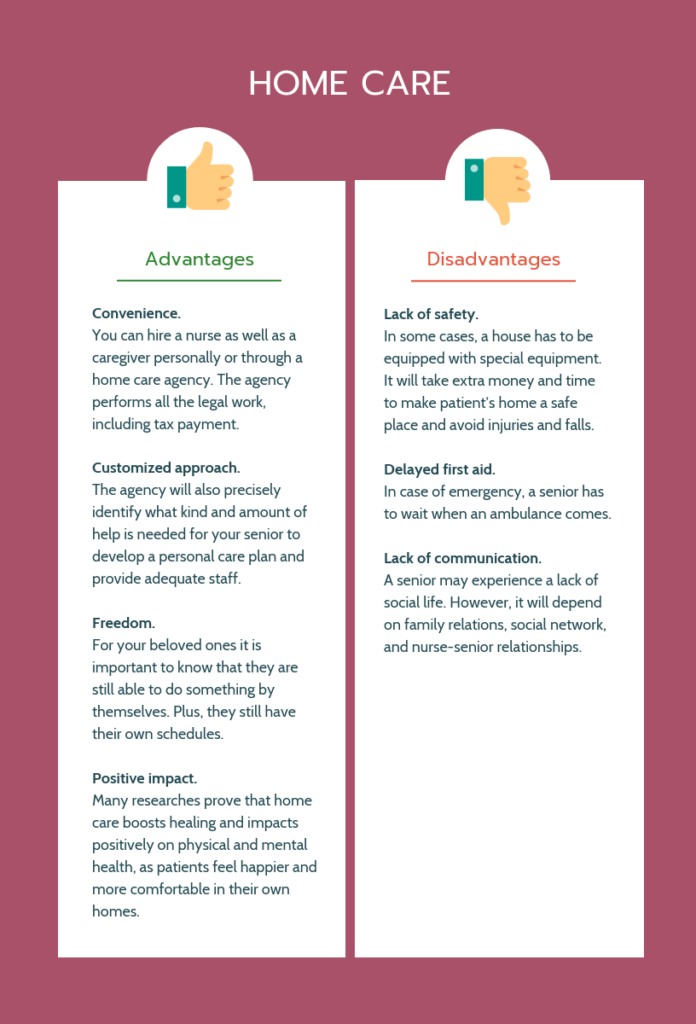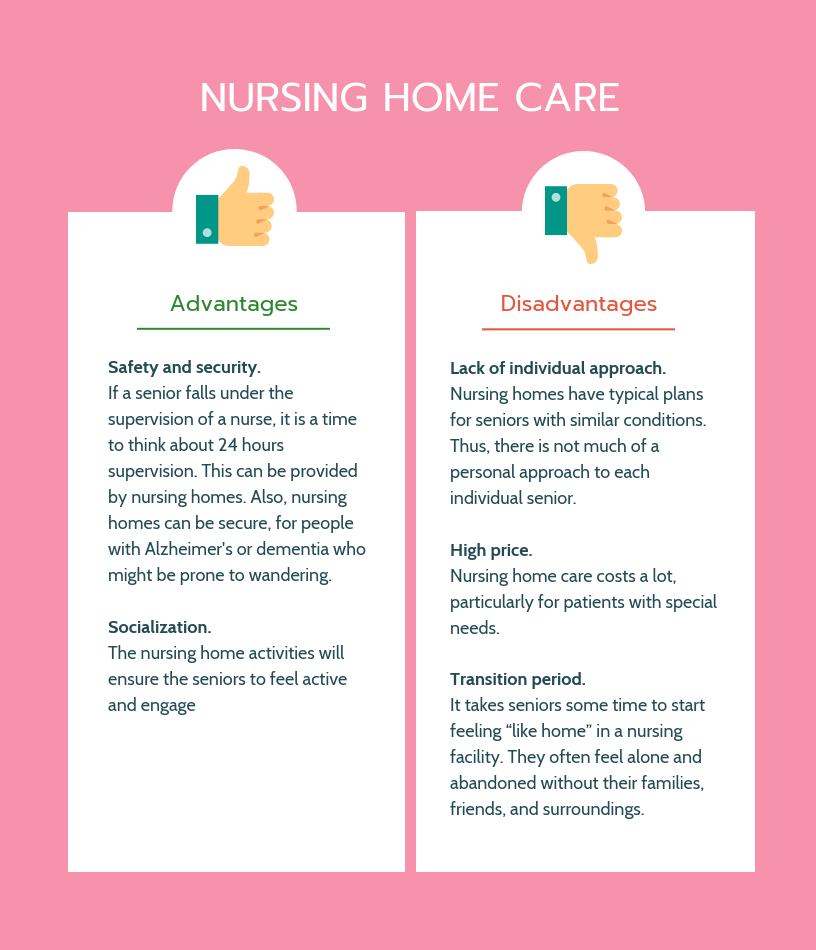 Key Takeaways
With this comprehensive guide in mind you should be able to determine which type of care is right for you and the senior in your life.
Talk to your elderly loved one, analyze his/her health condition, consider all the pros and cons of home care and nursing home and move forward with confidence.
If you still are not sure and need more details on any type of care, All Heart Homecare Agency will be more than happy to help you find a proper solution in a tough situation. Please, contact us any time by any method available.
Because we care!