Want to know what is CDPAP and how your family can benefit from the program? Read further for more details!
Consumer Directed Assistance Program
The majority of American seniors hope to age in their own homes, not in assisted-living facilities. Professional aides from home care agencies or family members can be a good solution in this case.
In most cases, relatives or close friends become primary caregivers for elderly people. According to AARP reports, more than 35 million adults provide non-paid help to people over 50. Statistics show that 20% of the income of a working person is spent on caring for an elderly one. This is a pretty large amount that gobbles up a considerable part of a family budget.
Fortunately, there is a Consumer Directed Personal Assistance Program (CDPAP), offered by the New York state government. This program enables elderly people to choose and hire their relatives, neighbors or friends as their paid caregivers.
CDPAP home care is a win-win opportunity. While seniors remain comfortable in their own homes and receive the most sensitive care from the people they know, family members or friends get paid for taking care of their elderly loved ones.
CDPAP Facts
To tell you more about the program, we put together most interesting facts about the program.
1. Only for NY State residents
Other U.S. states may have similar programs, but CDPAP is only valid for a person who needs care and resides in NY State.
2. Medicaid is a must
Funded by Medicaid, the CDPAP program is only available for Medicaid holders. Regular Medicare or other types of insurance will not be enough.
3. There is a lot of paperwork
The CDPAP application process is quite complicated and requires a lot of administration. But don't worry! The program providers like All Heart Homecare Agency, will stay with you every step of the authorization and enrollment, making sure all the documents are filled out and processed properly.
4. You may qualify for the program without realizing it
Feel free to apply if you meet all the following requirements: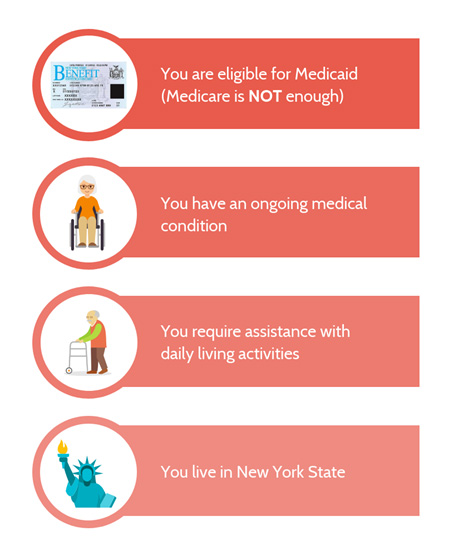 5. CDPAP is totally free for consumers
Since CDPAP is a Medicaid-funded program, it means no extra payments for a service recipient. The caregiver is paid by a CDPAP agency, and there is no additional cost incurred by the consumer.
6. The program provides competitive pay to caregivers
The average payment is between $11.10 and $15 per hour – depending on the New York county you live in. If you reside in any of five NYC boroughs, you'll get $15 per hour, plus other free benefits.
7. Children CAN get paid to care for their parents
Yes, it is absolutely possible, and very often an adult child receives Medicaid compensation for helping his/her mom and dad. Just make sure your family members have Medicaid or are eligible for it.
8. Spouses CANNOT be hired as caregivers
One's legal spouse is excluded from being a CDPAP home care attendant in every circumstance.
9. No license or certificate is required
Anyone chosen by the consumer to be a CDPAP caregiver can qualify, even without any prior education or certification in healthcare.
10. CDPAP is on the rise
Each year, more than 1500 people join the program and this number is growing.
Need more information about CDPAP or want to check if you are eligible for the program? Contact us by any method available! Because we care!